These instructions are for Rithum Switch, RS-01-XX
You can find the PDF specification sheet for Rithum Switch which contains these instructions and more
here
.
Description
Rithum Switch is a smart home control panel and thermostat which directly replaces a light switch and provides control of third party systems.
To correctly utilise the features of Rithum Switch, you will need third party systems such as lighting, audio or climate control systems, although there are some climate features built-in.
Specification
Input rating: 100 - 240V~AC 50/60Hz / 12-30VDC
Wiring: Parallel (neutral required)
Input current max: 260mA
Power consumption standby: 0.7W
Wi-Fi: 2.4GHz 802.11bgn (Wi-Fi 4)
Environment: For indoor use only
Back box: EU 71mm round or UK 71mm square
Back box depth: 35mm (25mm in some scenarios)
Environment: -15c to 45c
Dimensions & Connections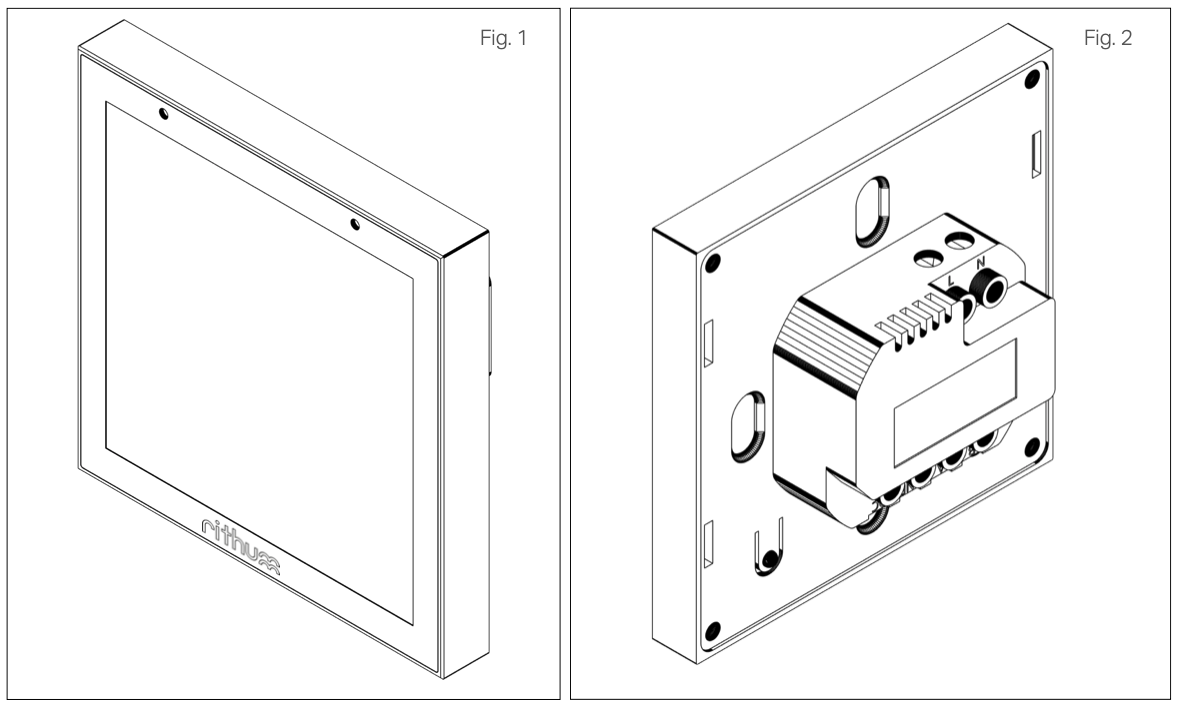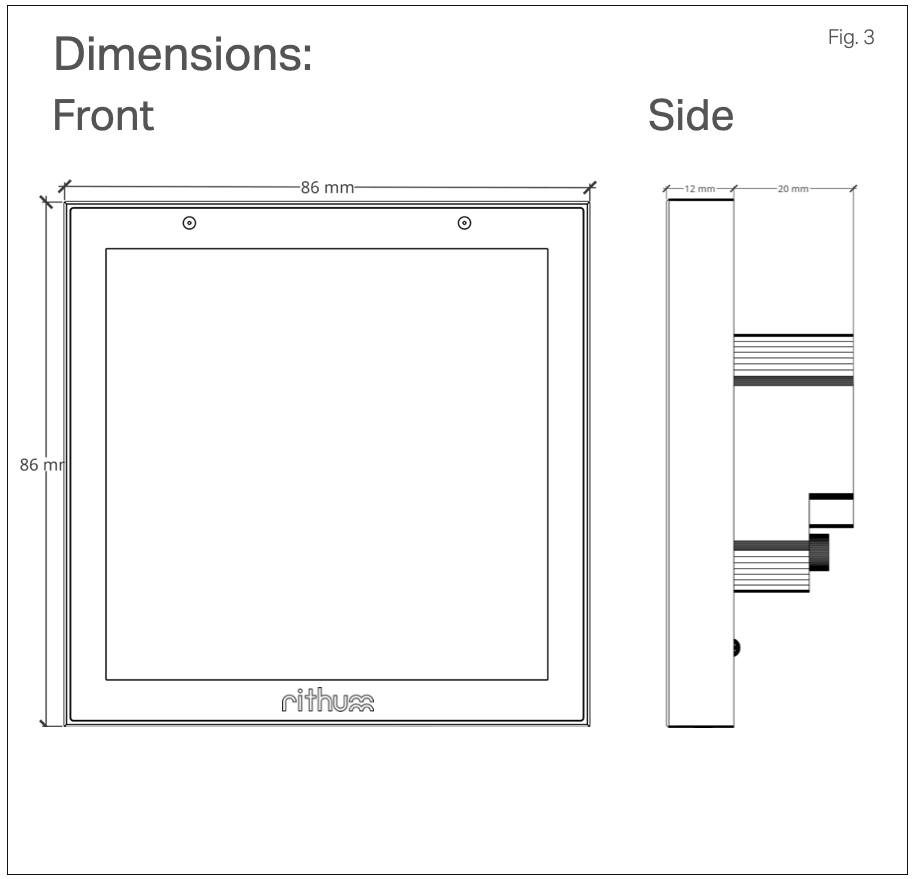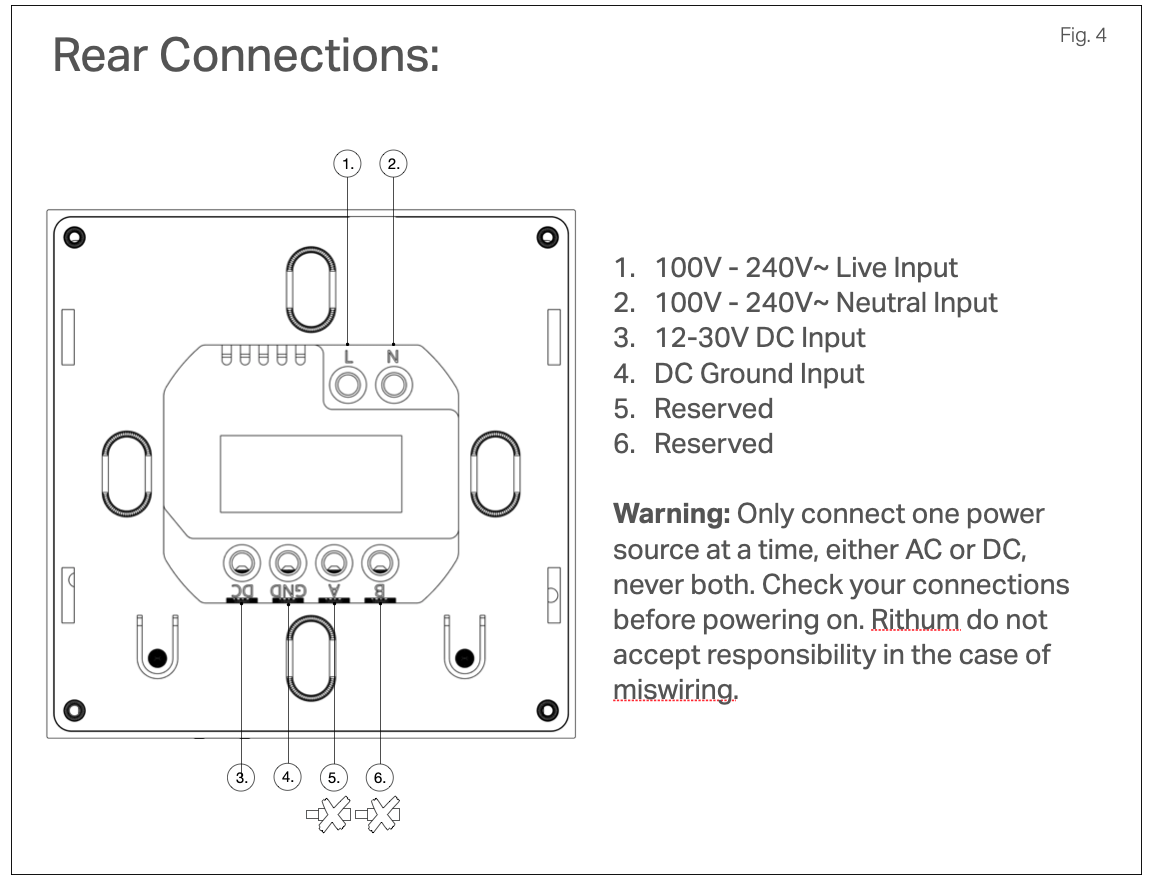 System Topology
Rithum Switch integrates with third party systems over Wi-Fi. It is important that you have a reliable and strong Wi-Fi signal and upgrading your ISP supplied equipment highly recommended.
Rithum integrates with multiple lighting, audio, climate and other systems. For more about what Rithum works with, please see our website which also contains more system-specific topologies.
You may need one or more software plugins for Rithum to integrate with certain systems or provide certain features
Multiple Rithum Switches can communicate with these systems over the same network (subject to network limitations).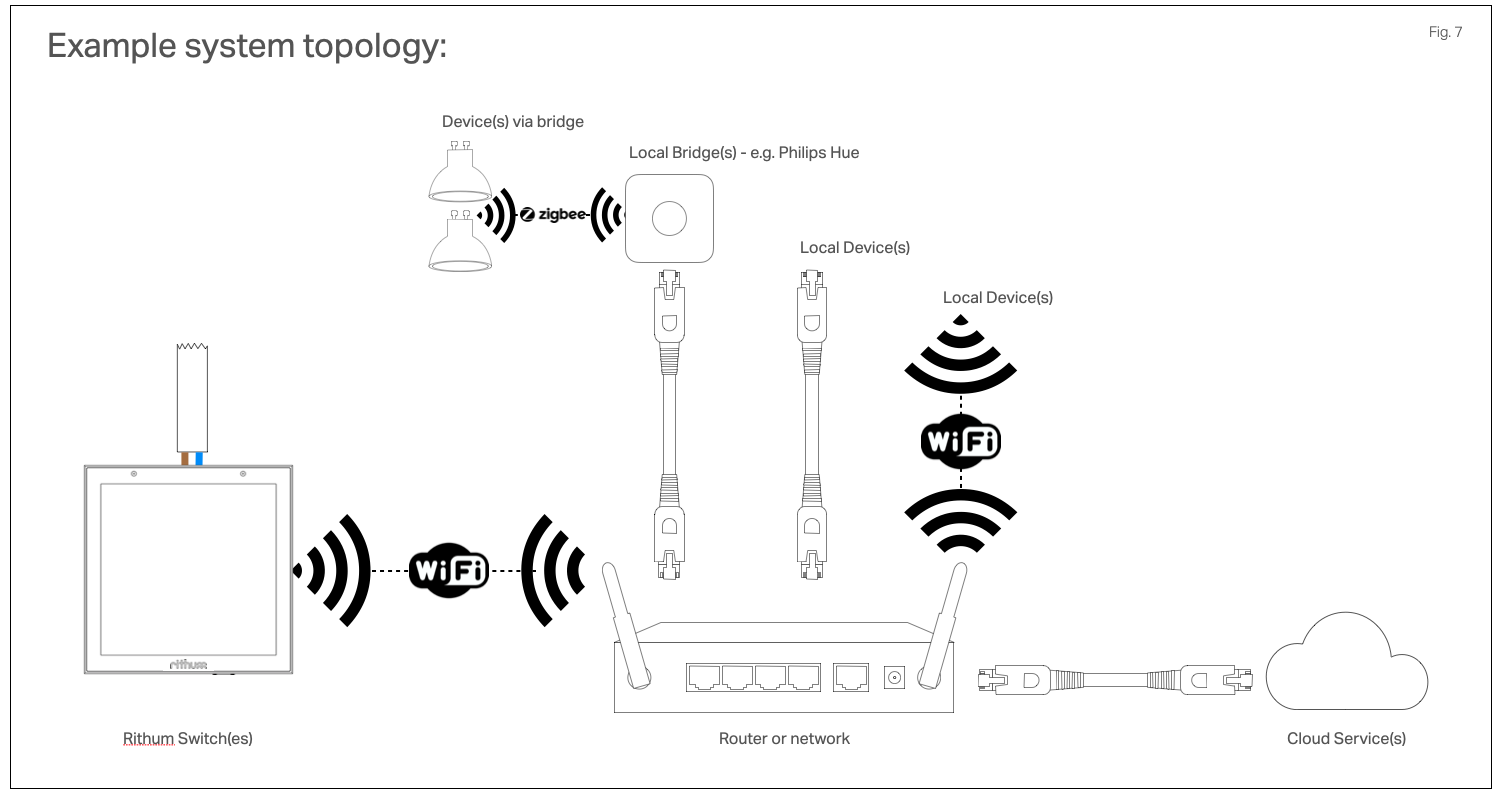 Wiring
WARNING: Electrics are dangerous and you should seek the help of a professional electrician if you are not 100% sure what you are doing.
Always ensure the power is off before working and test any wires before touching them. Risk of fire. Risk of shock.
Risk of death.
Rithum Switch is mains powered (unless using 12-30V DC) and requires a neutral, meaning that it should be wired in parallel with your bulbs rather than in series with them. When utilised with smart bulbs/dimmers (as is intended), tweaking your existing setup is relatively straightforward.
The general concept is to permanently energise the smart bulbs/dimmer and use the original switch wire to send both the live and the neutral back down to the switch.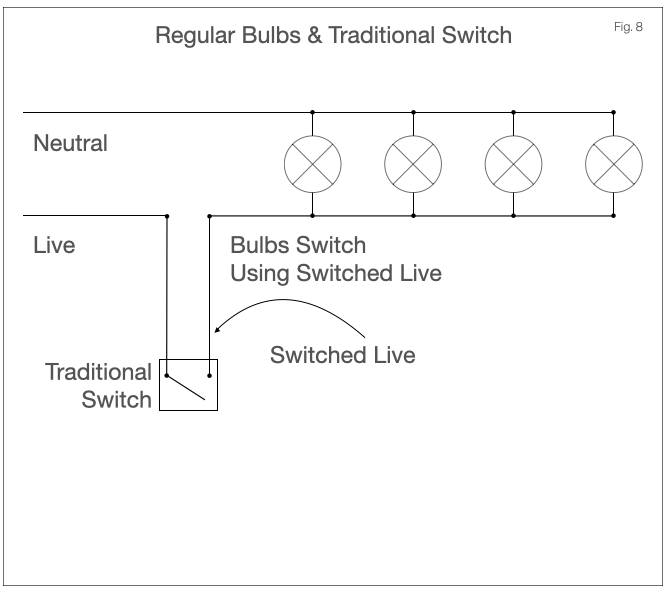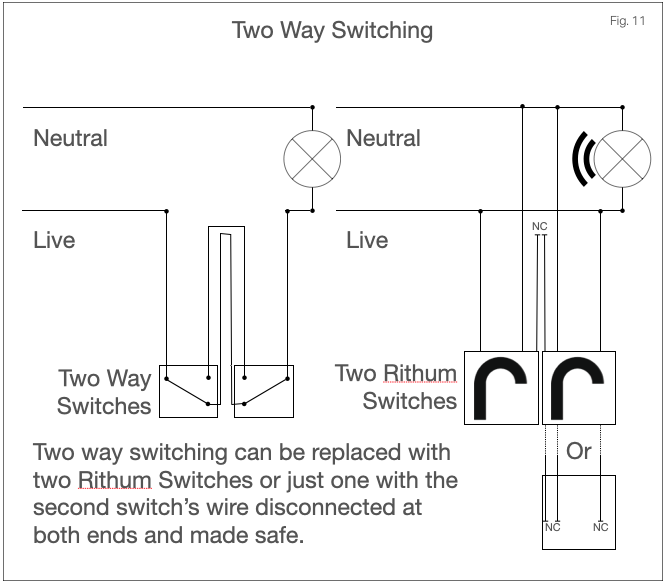 The diagrams below are a representation of how the wires and junction box(es) in your install might actually look, however the end result is the same as in the wiring diagrams on the previous section.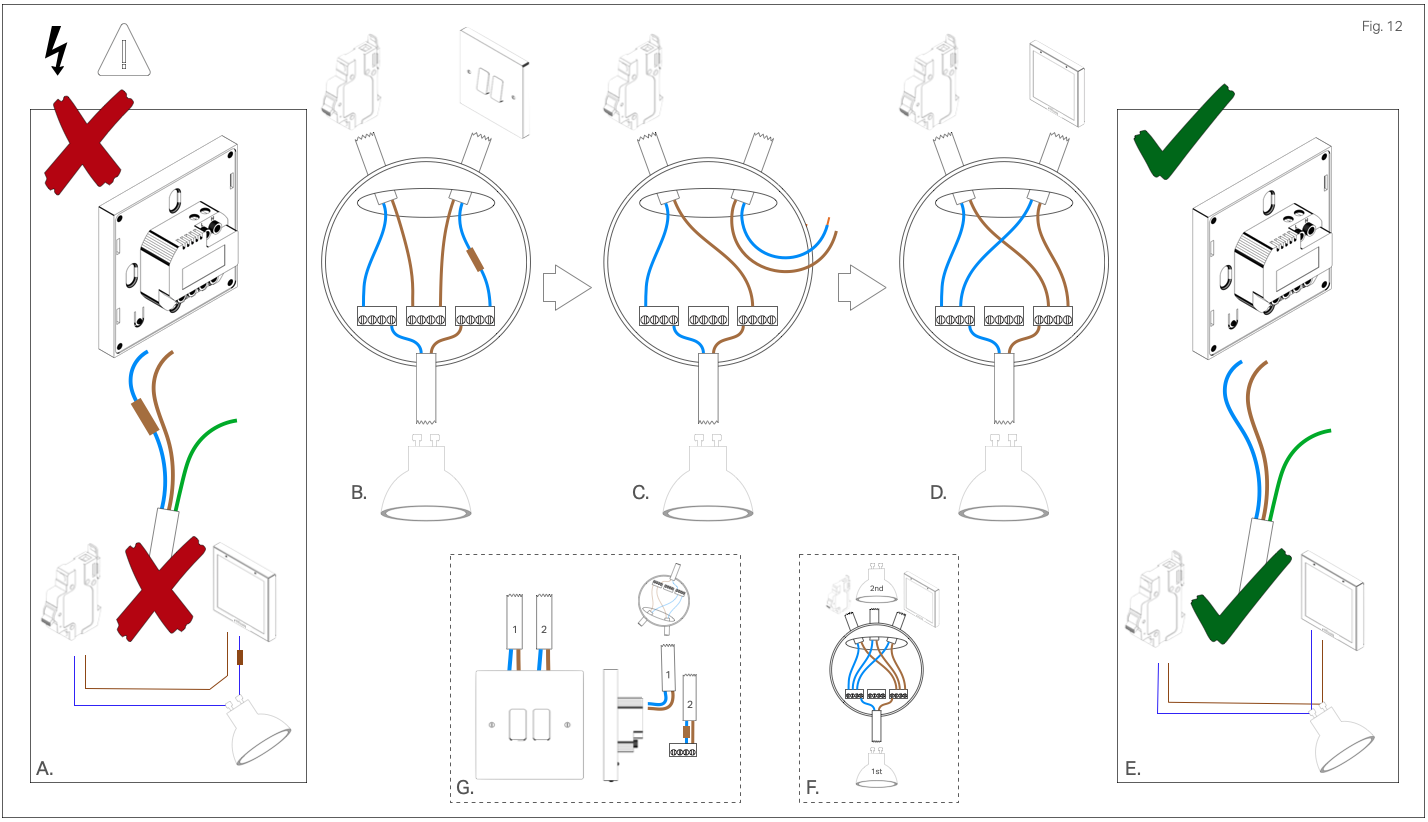 Some homes will not have a neutral at the switch location (A), they have a switched-live (usually a blue wire marked with brown tape). Since Rithum Switch requires a neutral, there is a small change that needs to be made to utilise the existing wiring. [Note: If you do have a neutral at the switch location already (very likely in mainland Europe), then the same concept discussed below applies just at the switch itself rather than the light location.]
The digram above (B) shows the likely starting point for the wiring within a ceiling rose or downlight. To start with, the switch is in series with the bulbs, making and breaking the circuit as it is switched.
By hooking the incoming power feed directly up to the bulb(s) (C), they will be permanently energised.
Then connect the wire from the switch in parallel (D) to send both a live and neutral back down to the switch location.
This has now converted the switched-live back to a neutral (and so the brown marker tape can be removed) (E).
Note that this is only possible with smart bulbs since the bulbs can be turned on and off through the software meaning the original switch is not necessary.
If you have additional bulbs they should be connected the same as the first bulb: in parallel (F).
If the switch has two cables (i.e. for two circuits), then the live and switched live in the second cable can be connected (G) with a suitable connector to permanently energise that circuit too, only from the switch location rather than the rose.
Installation
If you need help separating the wall plate from the Rithum Switch, then see
this article.
WARNING: Do not force Rithum Switch into the back box.
Although seating it onto the wall plate requires a firm movement, it should not be forced. Ensure your back box is capable of having the Rithum Switch seated, e.g.
by trimming parts that might block its seating
.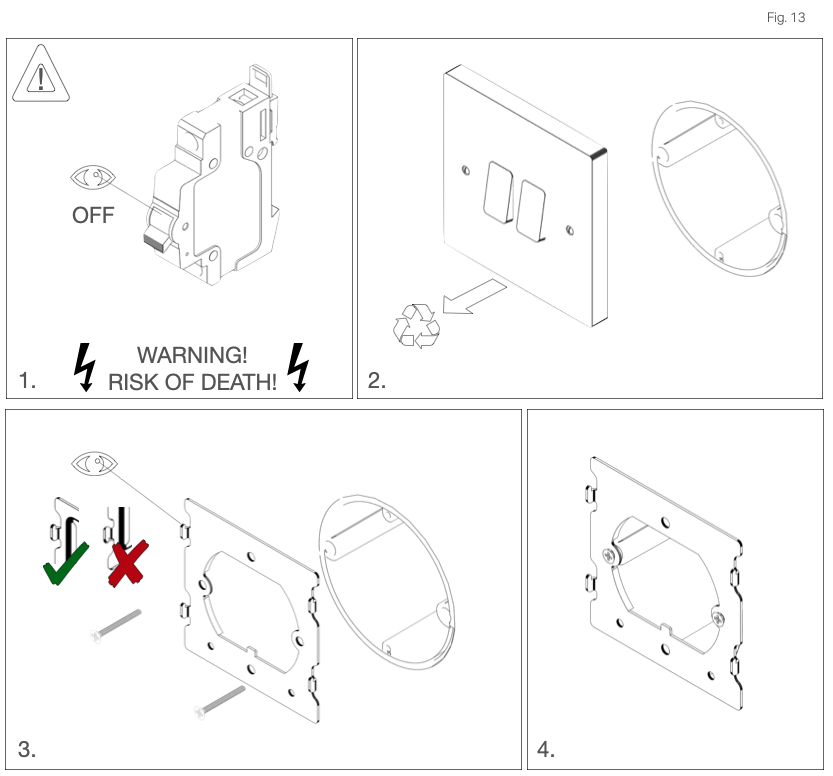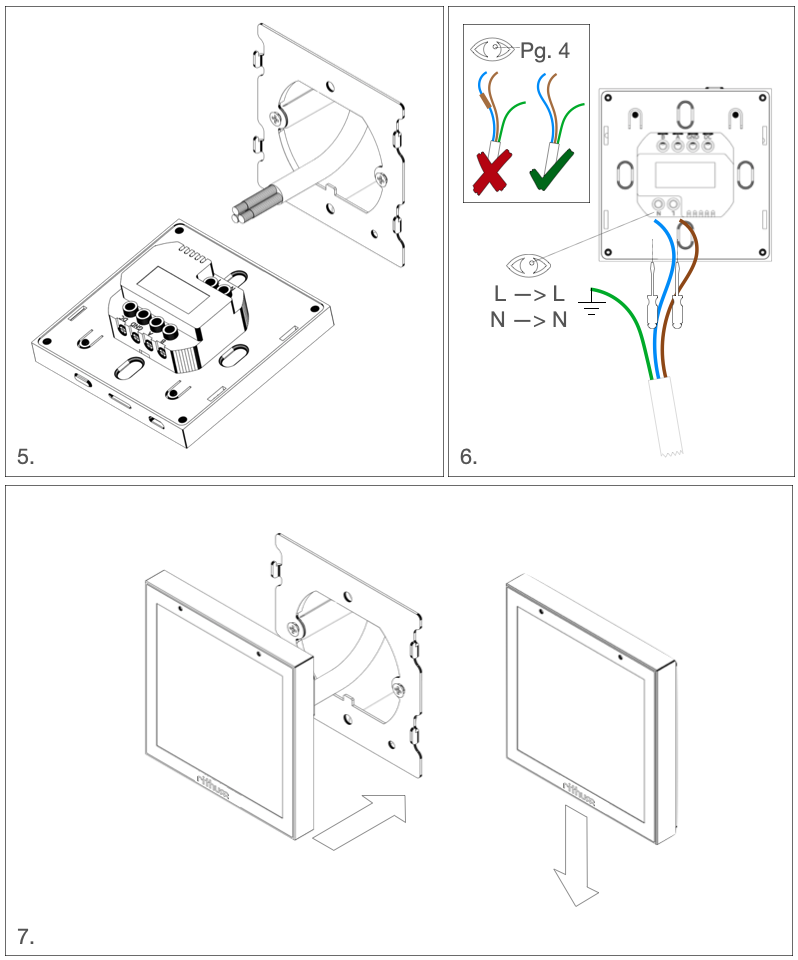 FCC Statement
FCC ID: 2A96X-RS-01
Note: This equipment has been tested and found to comply with the limits for a Class B digital device, pursuant to part 15 of the FCC Rules. These limits are designed to provide reasonable protection against harmful interference in a residential installation. This equipment generates, uses and can radiate radio frequency energy and, if not installed and used in accordance with the instructions, may cause harmful interference to radio communications. However, there is no guarantee that interference will not occur in a particular installation. If this equipment does cause harmful interference to radio or television reception, which can be determined by turning the equipment off and on, the user is encouraged to try to correct the interference by one or more of the following measures:
Reorient or relocate the receiving antenna.

Increase the separation between the equipment and receiver.

Connect the equipment into an outlet on a circuit different from that to which the receiver is connected.

Consult the dealer or an experienced radio/TV technician for help.
This device complies with part 15 of the FCC Rules. Operation is subject to the following two conditions:(1) This device may not cause harmful interference, and (2) this device must accept any interference received, including interference that may cause undesired operation.
Any changes or modifications not expressly approved by the party responsible for compliance could void the user's authority to operate the equipment.
The device has evaluated to meet general RF exposure requirement. The device can be used be in portable exposure without restriction.