A mesh WiFi network is where a network is spread out over multiple Access Points forming a mesh to extend a single network, with the same network name (or SSID), throughout your home. Your main router is an Access Point (AP) within the mesh, as are all of your satellite devices.
This is great for mobile devices such as phones and tablets. As you move a device around your home then if it has a poor signal it will find a better one and then switch its connection to a closer AP. This feature of switching connections between APs is known as 'roaming'.
Although good for mobile devices, roaming can be problematic for fixed location devices, such as VIOLET. When VIOLET first connects to a network, it will connect to the AP with the strongest signal - probably the one which is closest. However, if that AP has a temporary outage for some reason and another (weaker) signal from a more distant AP is available, then VIOLET will roam to it. Although this weaker connection might be usable, it could be unreliable. However, VIOLET won't roam back to the closer AP unless the new connection fails. So, this can result in not being connected to the optimum AP and with an unreliable network connection.
An example settings screen on VIOLET for a connected WiFi network is as follows: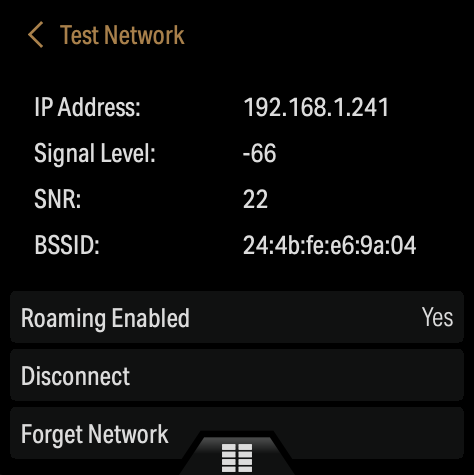 This screen contains some useful features to assist with network problems:
Signal Level and SNR provide an indication of the signal strength and quality of the connected network. Ideally:
Signal level should be higher than -70
SNR higher than 15.
BSSID is the unique ID of the AP that VIOLET is currently connected to. It should be possible to use this to verify that your device is connected to the desired AP.
If the signal level and SNR are poor and it appears to be connected to the wrong AP then press the Disconnect button to disconnect from the network and then reconnect again from the network list. This should trigger VIOLET to reconnect to the AP with the strongest signal.
If the signal level and SNR values look good and you believe it is connected to the closest AP then you might want to lock it to that specific AP. To do this, press on Roaming Enabled and change the setting to 'No'. This will prevent VIOLET from roaming to a more distant AP when there is a temporary outage of the closest AP.